*B Sequoia Wood Toga Prismatique
DOB: 2/14/07, Broken Cou Clair
~~~~~~~~
SS: *B CH Cherry Glen Tierro Inman
SD: GCH Cherry Glen WFSC Tecoa Touchee 3*M
DS: ++*B Redwood Hills Kane Rainman
I fell in love with this guy even as he hit the ground. Prism is just huge and is dynamite waiting to happen! He has excellent width and stature with a perfect front and rear leg set, excellent topline and rump slope! There isn't one thing I would change about him. We absolutely love his dam,
Splash
. She is such a strong doe with beautiful breed character, enhanced by being an excellent milker.
Linear Appraisal:
2007: 0-04 V/VVV
2007 Show Wins:
(Shown 3x): 1x JrGCH, 1x JrRCH, 2x 1st, 1x 2nd

Waiilatpu BSTS All The Rage
DOB: 3/02/07, Broken Chamoise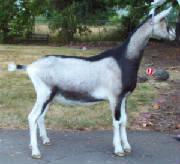 We absolutely love the breeding this fella is from! Gorgeous, gorgeous, gorgeous! This is one stretchy, uphill boy with excellent width and beautiful bone. His dam Amen is a powerful doe with a beautiful udder! Couple solid udders and structural correctness in the pedigrees from both the Waiilatpu, Brandt's and Hoach's herds and we are excited to see the direction Rage may take us within the next few years.
Amen was the 9th place Milking Yearling at the 2005 ADGA Nat'l show.
Amen's daughter was the 7th place Jr. kid at the ADGA 2005 Nat'l show.
Thanks Kathy and Susan. He is everything we hoped for structurally and more!
Linear Appraisal:
2007: 0-03 Ec/EcVV