*B Cherry Glen Inman Toga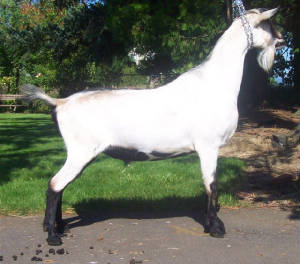 SS: ++*B SGCH Shahena'ko Sumo Tierro
(LA: 93/EEE, 13x BIS, 2005 All-American)
SD: SGCH Cherry Glen Tri Alice's Indigo 2*M
(5-02 LA: 92/EEEE)
DS: +*B Walnut Fork Sundance Cheyenne
(3-03 91/EEVE, '03 Nat'l 4th 3yo, '04 Nat'l 4th 4yo)
DD: SGCH Cherry Glen MMM Holly's Tecoa 2*M
(3-03 89/EVVE)
Toga's sire, Cherry Glen Tierro Inman, is the sire of SGCH Cherry Glen Inman Monika, Toga's paternal sister, the Alpine '04 ADGA Nat'l 9th 2yo, '05 Nat'l 7th 3yo, and '06 Nat'l 5th 4yo. Inman is also the maternal brother to Cherry Glen Radical Gesture (93/EEEE) who has been Nat'l Alpine Reserve Champion for two consecutive years and was just named the ADGA Nat'l Alpine Grand Champion for 2006. Inman just Linear Appraised an amazing 93/EEE this year.
Toga's dam, GCH Cherry Glen WFSC Tecoa Touchee (91/EEVE), according to the Cherry Glen site is, "smooth and level with an excellent shoulder assembly, front feet, back and rump." Touchee was the '03 Nat'l 4th place 3yo, and the '04 Nat'l 4th place 4yo.
Toga is a powerful, wide, angular, light chamoise. His front end blending is amazingly smooth.